Your child needs your presence more than your presents.

- Jessie Jackson


Read more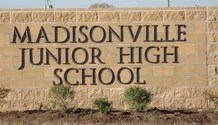 8th Grade Promotion Picture and MJH Spring Picture Day is Tuesday, March 10th!
All 8th graders must be present and have their gown picture made for the yearbook and promotion folios, regardless if purchasing pictures. Spring pictures will also be made that day for all 6th, 7th, and 8th graders that bring an order envelope that day. Picture order forms will arrive at the end of February both for Spring and Promotion pictures, and be given to the students.
Basketball Picture Day is Monday, February 2nd!
Picture order forms will arrive soon and be passed out by the coaches. All 7th and 8th grade boys' and girls' teams will have their picture made. Bring the order form to the photographer February 2nd.
Pre-Order your MJH 2014-2015 Yearbook!
Order forms are at the front office or with Mrs. Bennett. Information to order on-line is on the order form as well. The yearbook is only $36, or enjoy creative packages for various prices. Order from now until June. If you have an 8th grader, keep in mind a student support ad! Information available soon at the front office.
Show all news »